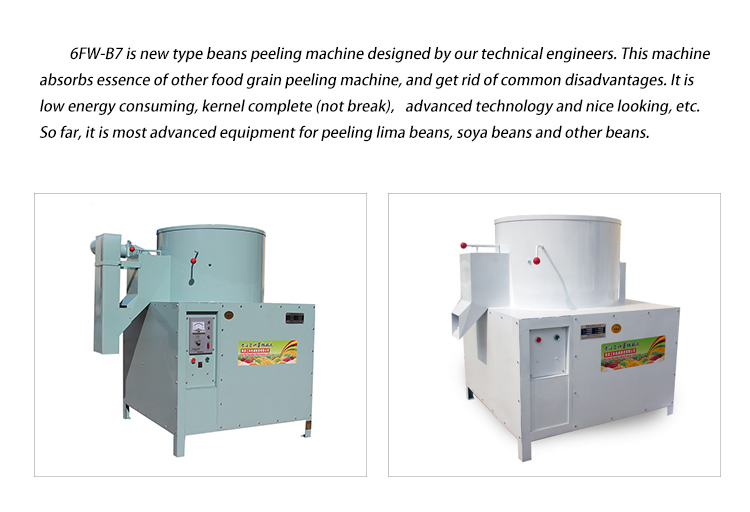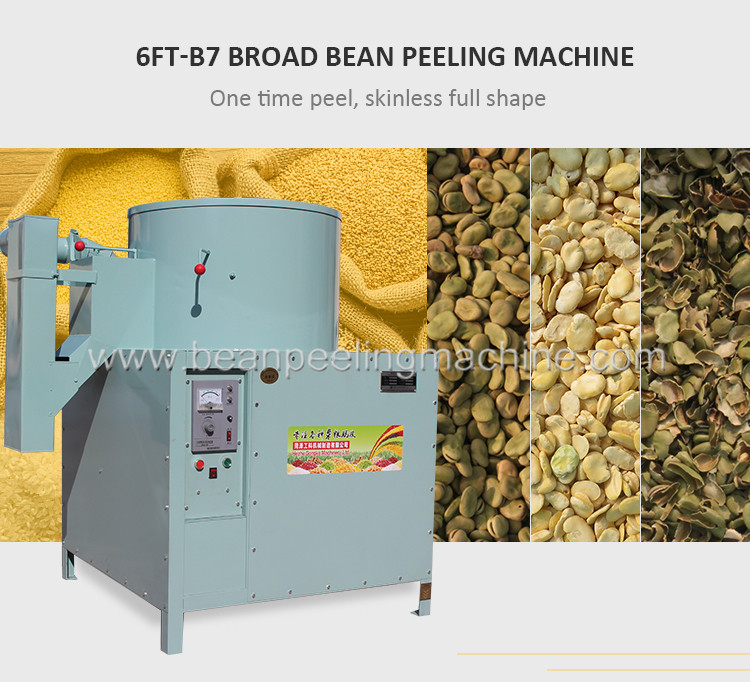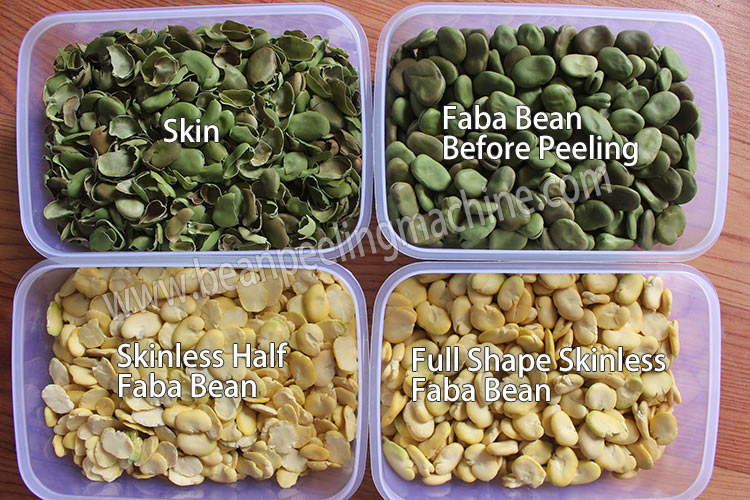 Small broad beans peeling machine Introduction
6FW-B7 is new type beans peeling machine designed by our technical engineers. This machine absorbs essence of other food grain peeling machine, and get rid of common disadvantages. It is low energy consuming, kernel complete (not break),advanced technology and nice looking, etc. So far, it is most advanced equipment for peeling lima beans, soya beans and other beans.
This machine is applicable for peeling beans in its original shapes such as corn, soy beans, green peas, lima beans, etc. It adopts most advanced whole shape peeling technology, which fills the technical blank in this industry. It is designed with wind separator to separate peeled grain from bran, easy to operate.
We know the Nigerian market very well, and we attach great importance to developing cooperation with Nigerian customers. Our small bean peeling machines are just right for the local market.
300kg/hour broad beans peeling machine Main features
(1) Match rmp meter (high tech product)
(2) Dust control twice
(3) Easy to operate
(4) Compact structure and nice looking
(5)300kg/hour
(6) price :$4500-$5000
HEAVY DUTY DRIVE AXLES
Beans peeling machine Working principle
Beans come into peeling work room. Under push of knife plate rotation and material stopper to stop, knife blade and bean surface makes relative motion, thus, blade strips outer skin of beans. Knife plate keeps continuous rotation, plus stop by material stopper plate, and all beans material keeps irregular rotating and turning, blade then continuously removes bean skin. After some time, when beans skin is well stripped, let out bean kernel. This is the principle.
Workable beans:
White bean, soyabean, broad bean (lima bean), chick peas, tiger nut, green peas, etc.
Peeled output: whole shape
| | | | | | |
| --- | --- | --- | --- | --- | --- |
| Model | Motor power | Peeling rate | Capacity | Outer dimension | FOB Qingdao Unit Price |
| 6FT-B7 | 4.5kw-4P, III phase, variable speed motor | 98% | 200~300kg/hour (depending on different beans.) | 1300x1000x1300mm | USD4800/set |