6FT-40 corn/maize flour milling machine is most popular model that is suitable for flour grinding purpose. It adopts double roller grinding theory. Two rollers rotates at opposite direction, and produces friction, squeeze, cutting to crush grain, then send to round sifter for extracting flour. All process goes under wind automatically. It is composed of power, feeding, grinding and separating. Capacity is big, flour quality is good. Suitable for business in agricultural areas, villages or small city towns.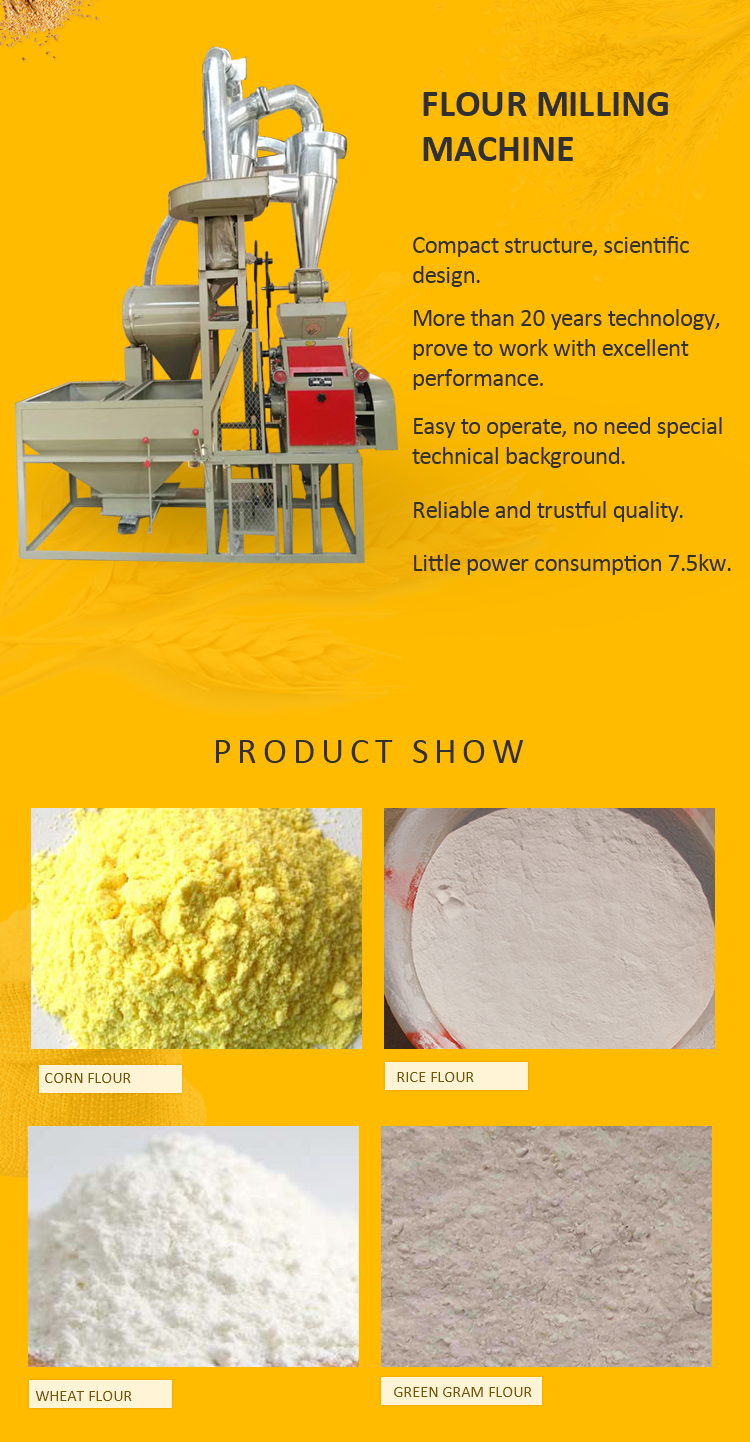 Corn/maize flour milling machine Technical advantage
1. Highly automatic, high production capacity 300-400kg/hour.
2. Easy to operate, easy to replace flour sieves.
3. Compact structure, strong steel sheet material, durable to use.
4. Transportation is easy, around total 5cbm.
5. Machine is equipped with roller pressure adjusting system, roller position fixation design, two silos easy exchange design for grinding different times.
6. Electrical control cabinet is configured in the machine, high security. Easy to protect people and machine from damage.
7. We use imported famous brand roller for running long time.
8. Driven way are synchronous belt or gear toothed.
| | |
| --- | --- |
| Model | 6FT-40 |
| Name | Automatic flour grinding machine |
| Brand | Kingrunda |
| Condition | New |
| Production capacity | 300-400kg/hour |
| Motor power | 13.2kw-15kw, 3p |
| Grinding type | double roller technology |
| Automation | Fully automatic |
| Usage | Grind flour from wheat, rice, corn, soyabean, yellow peas, etc |
| Usage scope | big sized food processing plant |
| Overall size | 2450x1200x3400mm |
| Final flour fineness | 40-160 mesh |
| Package type | Plywood case |
| Package size | 2.7x1.1x1.9m |
| Quality assurance | 1 year |
| Certification | CE, ISO9001, SGS |
| Net weight | 900kg |