Automatic hot pepper/cocoa crushing machine General introduction
9FC-300 works with single phase 3kw motor. It is composed of base, motor, grinding plate, hopper, cyclone, etc. Grinding plate is corrugated with fast rotating rotators which effectively crush corn into power. Structure is easy, high production capacity, easy to install and operate. Customer can change sieves to control flour fineness.
It is most popular single phase disk mill in crushing powder.
Here is a list of production capacity for reference when selecting disk mill
NO

Model

Sieve size

Motor power

(kw)

Raw material

Final product

Production capacity

(kg/hour)

1

FFC45A

1.5mm

11-13

Corn

Corn flour

480

2

9FC-360

1.5mm

7.5-11

Corn

Corn flour

1000

3

9FC-500

1.5mm

22

Corn

Corn flour

2500

4

9FC-600

1.5mm

30

Corn

Corn flour

3500

5

9FC-800

1.5mm

55

Corn

Corn flour

8000
Automatic hot pepper/cocoa crushing machine Advantages and wide application
1)Disk mill is suitable for home, small factory or unit use.
2) It is small, strong and reliable. It can use single phase 2.2kw motor. It can work without motor power.
3)It is mostly wide use crushing machine. In life and industrial activities, it is really an ideal all purpose crushing machine.
1) All kind of grains of corn, sorghum, rice, soybean, etc.
2) Water soaked soybean.
3) All kind of animal feed
4) Chemical industrial material
5) Herbal medicine
6) Agricultural plant including fresh sweet potato, fresh potato, pepper, fresh fruit, etc.
7) Pepper etc spice material
8) Peanut hull, rice hull, wheat hull, corn cob, tree bark, leaves, straws.
9) Shrimp, fish powder, sea food
10) Dehydrated vegetables, cakes, tea. Etc.
11) Gypsum powder
12) Metal calcium
13) Wine factory
14) Fish bone factory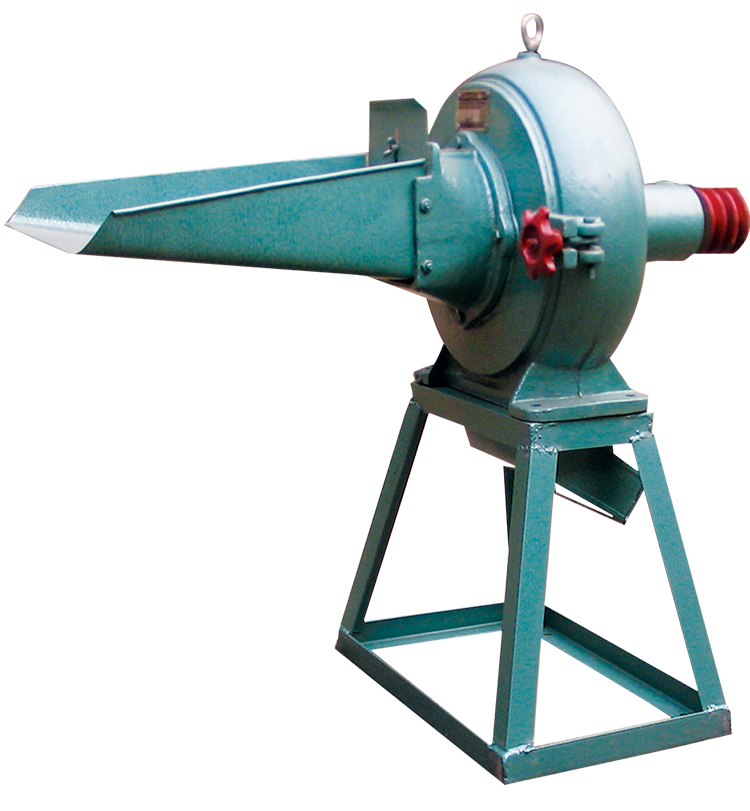 Main Technial parameter
Model
9FC-300
Brand
Kingrunda
Usage area
All purpose
Crushing fineness
40-60 mesh
Capacity
260kg/hour
Motor power
3kw, single phase
Weight
80kg
Bearing
6205
V-belt
1220
Main shaft R/min
6000
Outer diameter of rotating plate
300mm
T type long flat teeth qty
3pc
T type short flat teeth qty
3pc
Automatic hot pepper/cocoa crushing machine
Large Automatic hot pepper/cocoa crushing machine.




Such machines are mostly used in specialized food and condiment production enterprises. They use electricity and oil. The common feature is that they can produce a large amount of chili powder per unit time, at least 100 kilograms per hour, and some equipment can also be automated. For filling, some equipment has the function of aseptic cleaning, and some equipment can set the electronic processing process at any time according to the needs to achieve the functions of precision and unattended powder. Large machines are generally more expensive, starting at at least 6,000 yuan/set.

Small and medium-sized Automatic hot pepper/cocoa crushing machine.


There are many dry goods and seasoning stores in the wholesale market, which are generally electric and can handle more than 10 kilograms per hour.

Miniature Automatic hot pepper/cocoa crushing machine.

Many families have their own mini pepper grinders, some use electricity, and some are hand-cranked. The amount of peppers processed per hour generally does not exceed 2 kilograms, but they are small in size, easy to store, and low in cost, making it more convenient for families to use.

If you need such a machine, you can search for a lot of large and medium-sized pepper crushing machines in the "Google search" with the keyword "hot pepper/cocoa crushing machine", and you can search for the "meat grinder" as the keyword. Some tiny machines for home use.

If it is more convenient, you can find the largest food wholesale market in your local area. There must be many stores selling food machinery nearby. You can buy the things you mentioned above immediately if you ask yourself.