It can be seen from the picture that this soybean peeling machine has simple structure and takes up very little space. High power, high yield, and good peeling effect of a variety of beans. It is applicable to farmhouses, restaurants, grain processing plants, grain stores and other places.
Commercial peeling machine does not harm the nutrition of soybeans
Soybean generally refers to its seeds. According to the seed coat color and grain shape of soybean, it can be divided into five categories: yellow soybean, green soybean, black soybean, other soybean and feed soybean. Yellow soybean is the most widely planted variety in soybean. Yellow soybean is most commonly used for making various bean products, brewing soy sauce and extracting protein. Soybean dregs or ground into coarse powder are also commonly used in livestock feed.
Green soybean is a kind of soybean with green seed coat. According to the color of its cotyledons, it can be divided into green skinned green kernel soybean and green skinned yellow kernel soybean. Green soybean is rich in unsaturated fatty acids, soybean lecithin, saponins, protease inhibitors, isoflavones, molybdenum, selenium and other anti-cancer ingredients. It is rich in protein and fiber. It is also one of the main sources of vitamin A, vitamin C, vitamin K and vitamin B.
Black soybean is the black seed of soybean. It is also known as Zhongdou, black beans and so on. It tastes sweet and has a flat nature. Black soybean has the characteristics of high protein and low calorie, with black skin and yellow or green inside.
Feed beans (forage beans): generally, the seeds are small, oblate and oval, with concave dots on two leaves, and the seed coat is slightly shiny or matt. The sensory quality index of soybean also requires that the limit of heterochromatic grains is 5%, and the limit of feed beans (forage beans) is 1%, and other substances shall not be mixed.
Soybean is the most nutritious food in beans. It contains 40% protein, and the fat rate is rich and colorful, reaching 25%. Soybean contains more protein than beef and mutton, and its calcium content is higher than that of milk. Soybean lecithin is higher in composition than raw eggs, and also contains rich minerals and vitamins. Per 100g of soybeans, the moisture content is 10.2g, the protein content is 36.3g, the human fat is 18.4g, the carbohydrate compound is 25.3g, the dietary fiber is 4.8mg, the calcium is 367mg, the phosphorus is 571mg, the iron is 11mg, the carotene is 0.4mg, the vitamin b210.79mg, the vitamin b220.25mg, the nicotinic acid is 2.1mg, and the heat supply is 419 kcal.
Commercial soybean peeling machine can remove the soybean husk very cleanly, so that the more nutritious soybean petals can be exposed for better processing and consumption. The same does not harm the nutrition of soybean. The commercial value of this bean peeling machine can be seen.
How to use bean peeling machine?
Commercial soybean Peeling Machine Usage Area
As a multifunctional soybean peeling machine, it is widely used. The following plants can be processed.
lentil, gram (moong / mung), soya bean, green peas, corn, wheat, barley, sorghum, black pepper, chickpeas, black eye bean。 Because the soybean peeling machine is used for commercial use, we consider that if a peeling machine can only peel one or 2-3 kinds of beans, it is not acceptable. In this way, as an operator, you need to buy more peeling machines to meet different beans. This means greater costs.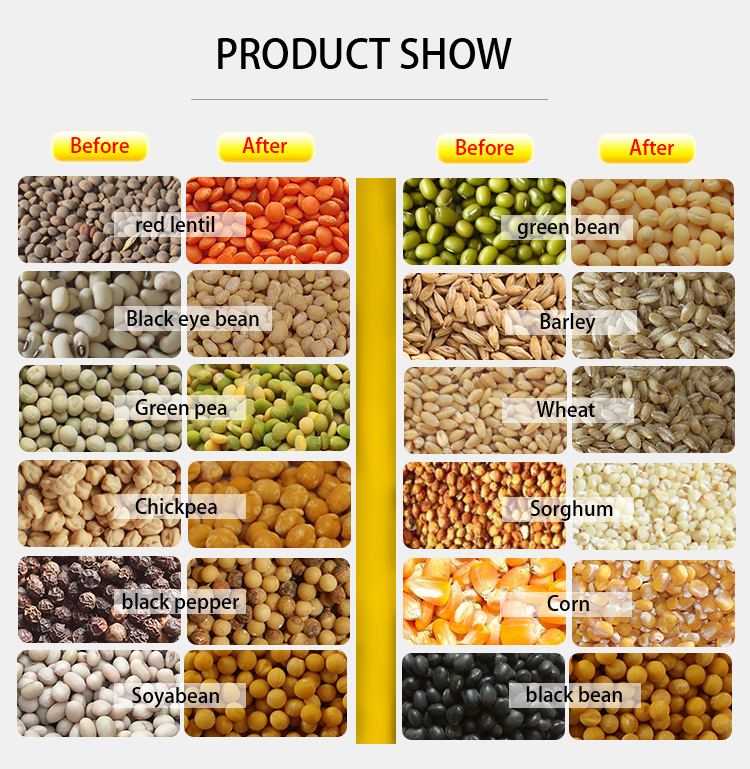 The grain processed by our peeling machine is amazing.
Multipurpose Commercial soybean Peeling Machine Performance introduction
Soybean Peeling Machine peels by dry way and has excellent peeling performance.

Peeling performance rate can be adjusted according to customer's requirements for output quality for food grain (soya bean, gram, lentil, etc)

Commercial soybean Peeling Machine heart parts are made in special process and special material, strong, reliable and anti-fatigue.

Overall size of peeling machine can be designed and changed according to customer's workshop and space. We reduce limit to space to great extent.

We can also do OEM and make machines as per customer's desires. We strive for providing practical, perfect scientific solution.



Multipurpose Commercial soybean Peeling Machine Technical details
Production capacity: 500kg/h
Peeling performance rate: 95%
Motor power: 15kw-4p
Main machine size: 1.4x1.1x1.9m
Whole machine size: 2.2x1.9x2.1m
It has two functions of peeling and separation, with high peeling rate and reliable quality.
Compact structure, high efficiency and energy saving, convenient operation