Introduction for PL-5 Mung bean /soyabean polishing machine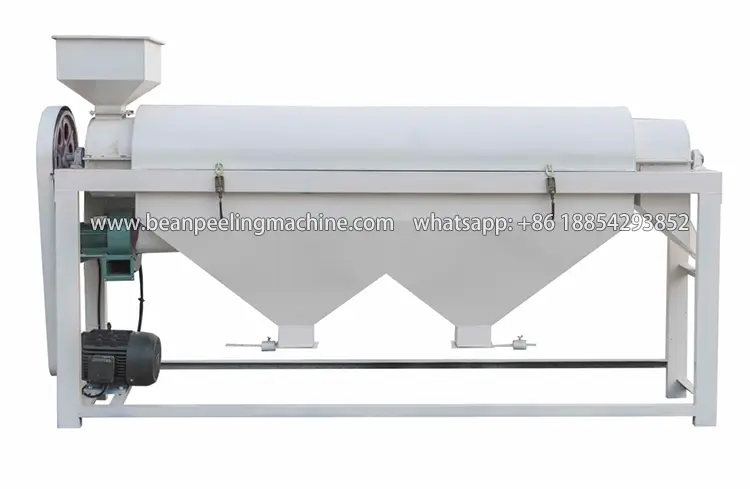 The PL-5 Mung Bean/Soybean Polishing Machine is a cutting-edge agricultural processing equipment designed to elevate the quality and marketability of mung beans and soybeans. With precision engineering and innovative technology, this machine is engineered to meet the demands of modern agricultural processing, offering exceptional results for both small-scale and large-scale operations.
Key Features
Efficient Polishing: The PL-5 utilizes advanced polishing mechanisms to effectively remove husks, dust, and impurities from mung beans and soybeans. This process not only enhances the visual appeal of the beans but also improves overall quality.
Customizable Settings: Operators have the flexibility to adjust the polishing intensity and duration, allowing for precise control over the polishing process to meet specific quality standards.
Robust Construction: Built to withstand rigorous usage, the PL-5 is constructed from high-quality materials, ensuring durability and longevity, even in high-volume processing environments.
Dust Collection System: Equipped with an efficient dust collection system, the machine maintains a clean and hygienic workspace, promoting safe and environmentally responsible processing.
Energy Efficiency: Designed with energy efficiency in mind, the PL-5 minimizes energy consumption without compromising performance, contributing to cost savings.
User-Friendly Operation: Its user-friendly interface and straightforward controls make it easy to operate and maintain, reducing the learning curve for operators.
Structure for Bean polishing machine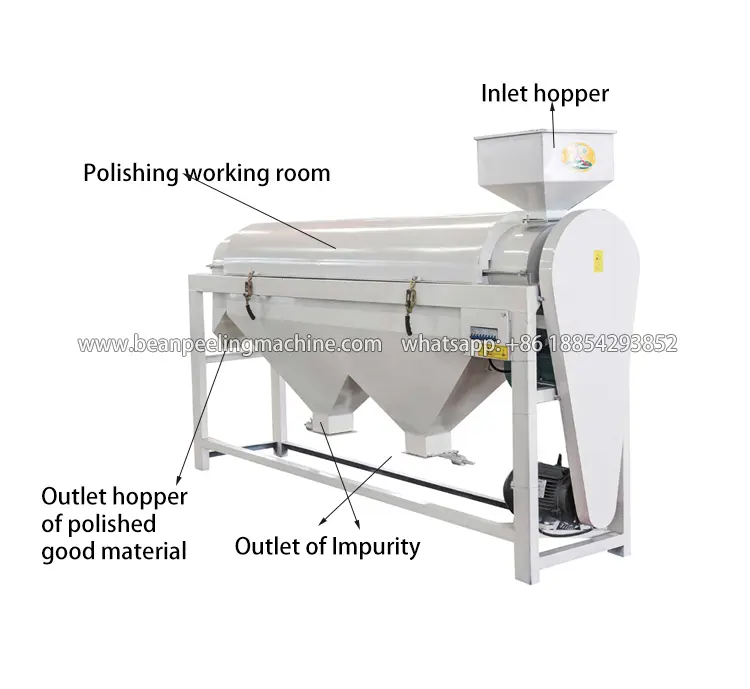 Inlet Hopper
This machine working with a big open mouth, so the materials can be better to go down into the main polishing chamber easily.
Outlet of Good Materials
The outlet of good materials at the end of polishingbody. so the beans can across all the polishing body
There is one bag clamp under the outlet.
Outlet of Impurity
The outlet of impurity adopt the design of inverted trapezoidal, the top size of collector is same to polishing body, and flank of collector tilt 45 degrees up, the impurity which getting down on the flank of collector can easy sliding down to outlet of impurity, so all the impurity of removed and discharged together.
Polishing Roller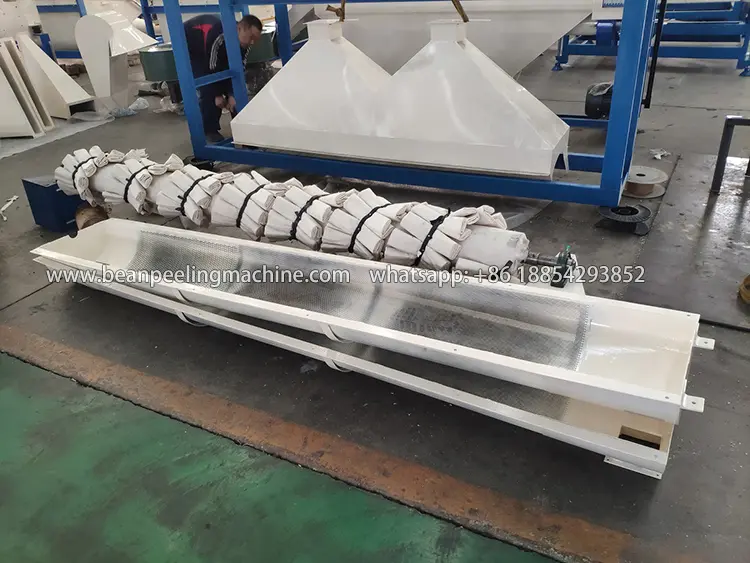 Inside the two semicircle sieves, there is the polisher roller, which rotates and pushes the beans moving forward.
The roller adopts clothed polishing soft design, can easy remove the dust and other surface impurities.
Finished product for mung bean polishing machine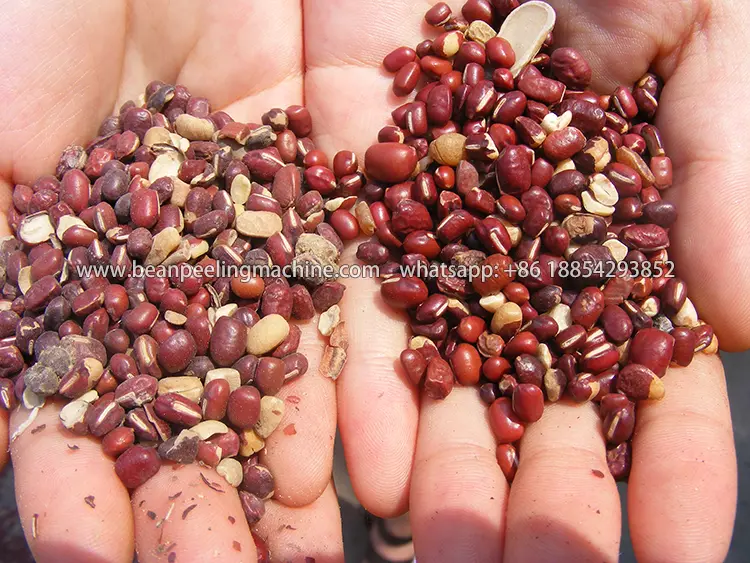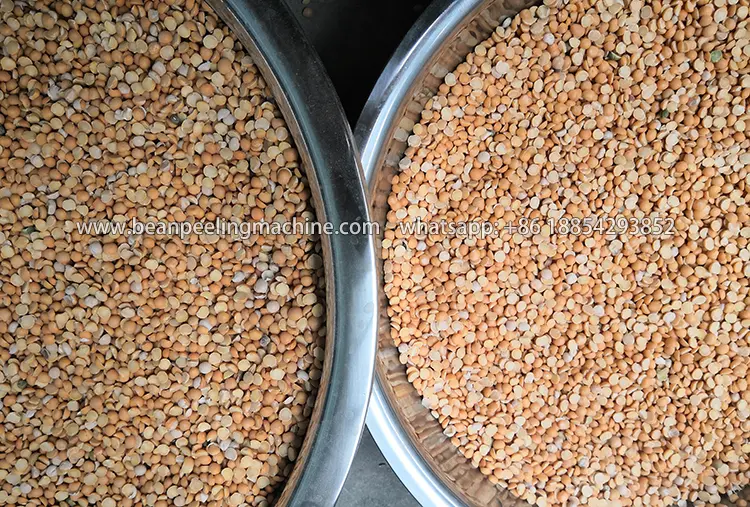 Applications
The PL-5 Mung Bean/Soybean Polishing Machine is an essential tool for agricultural and food processing facilities involved in the production of mung beans, soybeans, and similar legumes. It is well-suited for:
Food Processing Plants: Enhance the quality and appearance of beans for packaging and distribution.
Agricultural Cooperatives: Streamline the post-harvest processing of legumes, improving marketability.
Commercial Farms: Optimize the cleaning and polishing of beans for both local and export markets.
With its advanced technology, efficiency, and versatility, the PL-5 Mung Bean/Soybean Polishing Machine is a valuable addition to any bean processing operation. It not only elevates the visual appeal of beans but also contributes to the overall quality, ensuring that the end product meets the highest standards in the agricultural and food processing industries.
Product display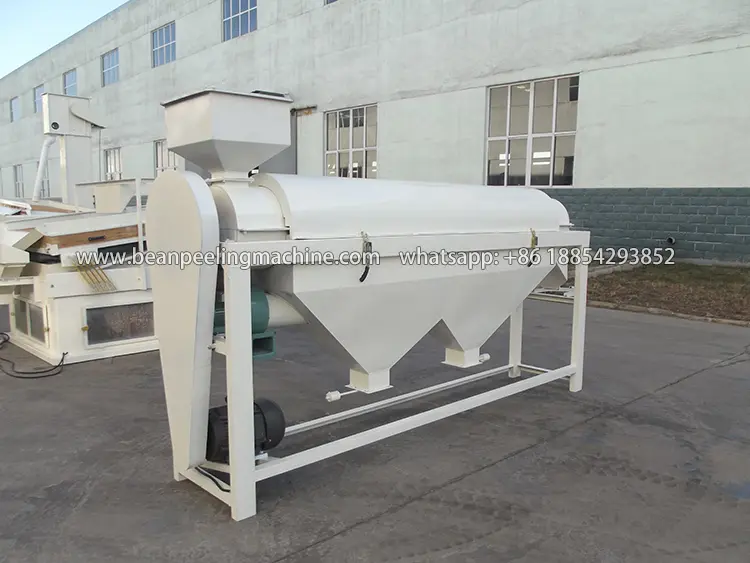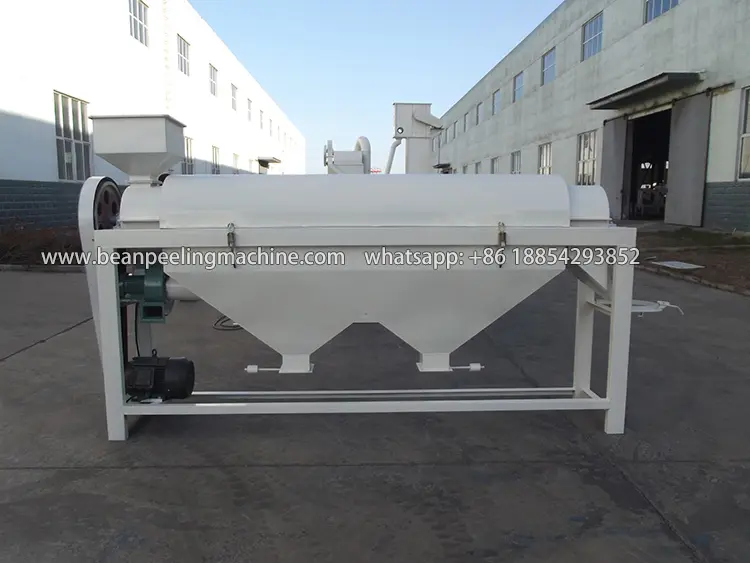 Model






PL-5

Capacity (T/H)






5

Rotate Motor

Air Blower

Total Power






Y2-132S-4 5.5KW 350R/MIN

0.75KW

6.25KW

Dimension (L*W*H-MM)






3000*700*1500

Weight (KG)






450
About our company

We take pride in being a leading professional manufacturer specializing in a wide range of Grain/Bean Dehulling & Peeling Machines and Milling Equipment. With a rich history of expertise and a commitment to quality, our company has established itself as a trusted provider of innovative agricultural processing solutions. Here's a closer look at our product offerings:
1. Grain/Bean Dehulling & Peeling Machines
Our expertise lies in designing and manufacturing top-notch Dehulling & Peeling Machines for a variety of grains and beans. Our machines are precision-engineered to effectively process lentils, peas, mung beans, faba beans, black eye beans, chickpeas, soybeans, tiger nuts, oats, quinoa, millet, sorghum, and more. By removing hulls and peels, our machines enhance the quality and marketability of these agricultural products.
2. Maize Grits Milling Machine
We are also a trusted provider of Maize Grits Milling Machines, designed to efficiently process maize (corn) into high-quality maize grits. Our machines are engineered for precision and consistency, ensuring that the maize grits produced meet the highest industry standards.
3. Wheat Flour Milling Machine
In addition to our Dehulling & Peeling Machines and Maize Grits Milling Machines, we offer Wheat Flour Milling Machines that are optimized for the milling of wheat into fine, high-quality flour. Our machines are known for their reliability and efficiency, making them a preferred choice among wheat processors.
Our Commitment
Quality Assurance: We prioritize quality in every aspect of our manufacturing process. Our machines are built to last, delivering consistent and reliable performance.
Innovation: We continuously invest in research and development to stay at the forefront of technological advancements in grain and bean processing.
Customization: We understand that different grains and beans may have unique processing requirements. We offer customization options to tailor our machines to meet specific customer needs.
Customer Satisfaction: Our customer-centric approach ensures that we provide excellent pre-sales and after-sales support, assisting our clients in optimizing their processing operations.
With a wide range of products and a dedication to excellence, our company is a trusted partner for agricultural processors seeking efficient, reliable, and innovative solutions for grain and bean processing. We are proud to contribute to the agricultural industry's success by facilitating the production of high-quality products worldwide.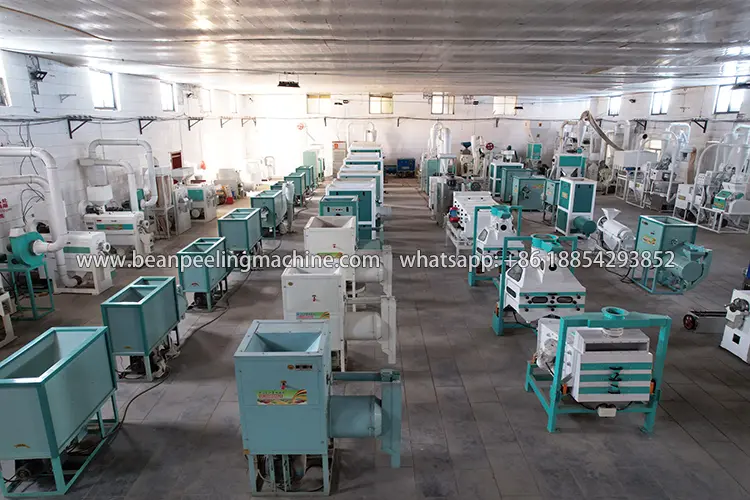 FAQ
1. What is the PL-5 Mung Bean/Soybean Polishing Machine used for?
The PL-5 Polishing Machine is specifically designed for polishing and cleaning mung beans, soybeans, and other legumes. It helps remove dust, dirt, and impurities, enhancing the appearance and quality of the beans.
2. How does the machine work?
The machine employs a combination of friction and airflow to remove the outer husk or skin of mung beans and soybeans. It features rotating drums and adjustable settings to achieve the desired polishing effect.
3. What are the key features of the PL-5 Polishing Machine?
Key features include adjustable polishing intensity, a dust collection system, durable construction, and easy maintenance. It is also energy-efficient and designed for continuous operation.
4. What are the benefits of using this machine?
The PL-5 Polishing Machine enhances the visual appeal of beans, making them more marketable. It also improves overall bean quality by removing impurities, resulting in a cleaner and more nutritious product.
5. Is it suitable for large-scale processing?
Yes, the PL-5 is suitable for both small and large-scale processing. It can handle a significant quantity of beans per hour, making it ideal for commercial operations.
6. Can it be used for other types of beans or grains?
While it's specifically designed for mung beans and soybeans, it may be adaptable for similar-sized beans or grains with minor adjustments and customization.
7. How do I maintain the PL-5 Polishing Machine?
Regular cleaning and inspection of the machine's components are essential for maintenance. Lubrication of moving parts, belt replacement, and cleaning of the dust collection system should be performed as needed.
8. Is technical support available for installation and troubleshooting?
Yes, we provide technical support for installation, setup, and any troubleshooting assistance required.
9. Does it come with a warranty?
We offer warranties on their machines. Warranty terms may vary according to different machines, so it's advisable to inquire about warranty coverage at the time of purchase.
10. Where can I purchase the PL-5 Mung Bean/Soybean Polishing Machine?
We are a professional manufacturer and seller of PL-5 Mung Bean/Soybean Polishing Machine. Welcome to consult us!