1.Posho mill machine maize milling machine introduction
Posho mill machine breaks the convention. The peeling system and grinding system can work independently, which saves electricity. also increases the service life of the machine.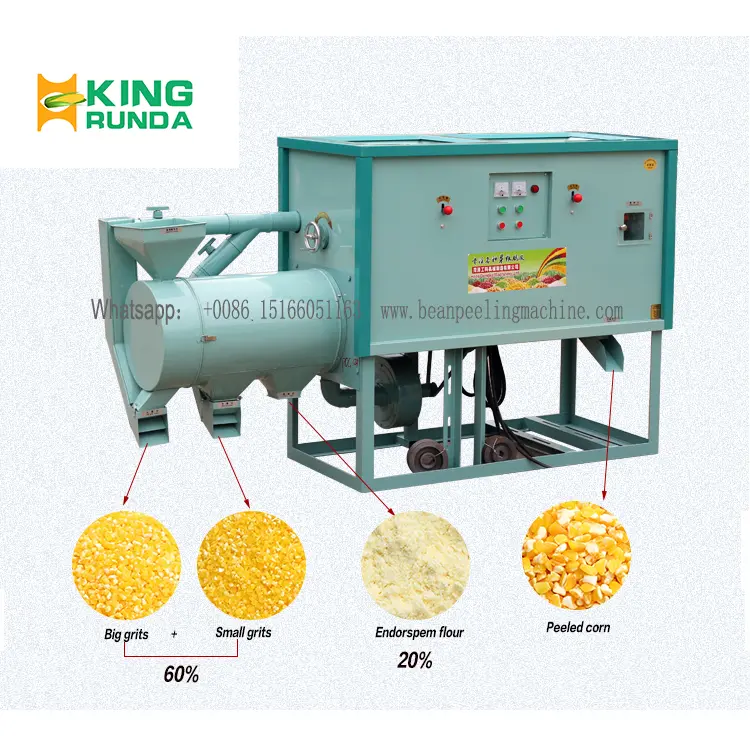 Posho milling machine maize milling machine is beautiful appearance、sturdy and durable,、easy to opearate and reliable performance.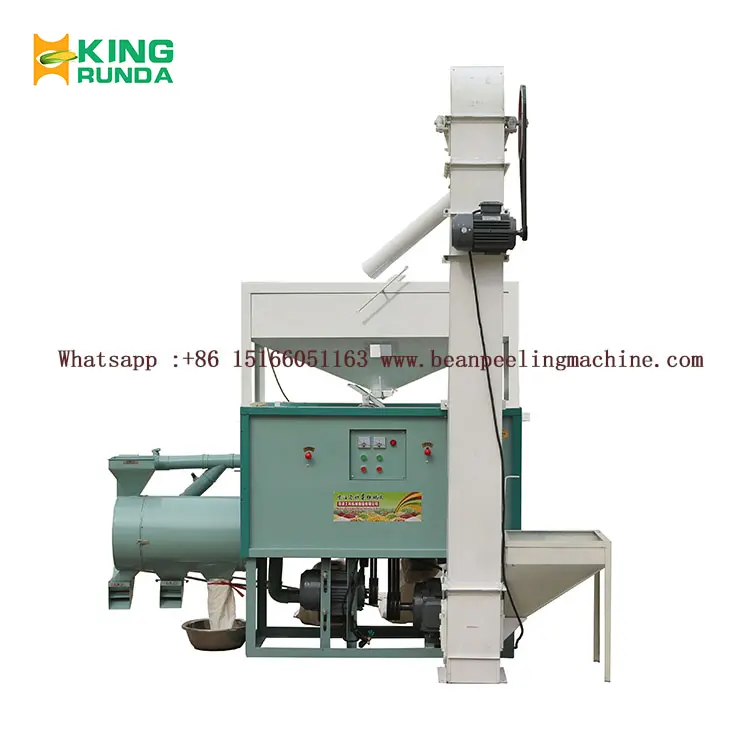 Posho mill machine can work with electric elevator to make it fully automatic,which can reduce labor cost.
2.Posh mill machine maize grinding machine technical parameters
| | |
| --- | --- |
| Model | 6FT-PD1C |
| Name | Top Grade Combined Corn Grits Milling Machine |
| Brand | Kingrunda |
| Condition | New |
| Final product qty | 4 |
| Grits Qty | 2 |
| Production capacity | 400~500kg/hour |
| Motor power | 15kw |
| Peeling performance | Approx. 98% |
| Automation | Semi automatic |
| Usage | Wheat, rice, corn, soyabean, yellow peas, etc |
| Usage scope | Small sized food processing plant |
| Overall size | 1980x680x1310mm |
| Quality assurance | 1 year |
| Certification | CE, ISO9001, SGS |
| Net weight | 450kg |
If buyer have higher capacity or special request , we can make it.
3.Posho mill machine structure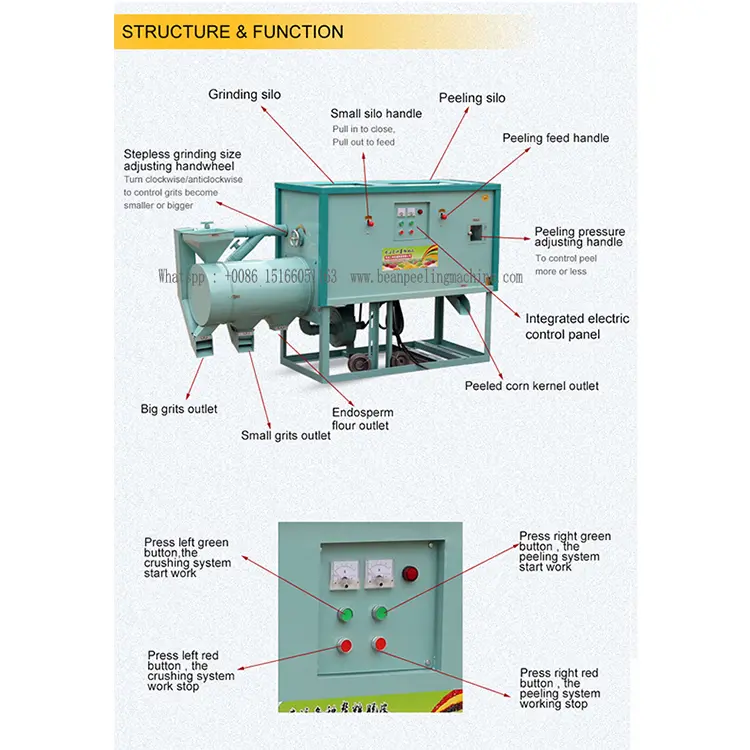 1. Thick iron sheet strong body, posho mill machine not shake during running.
2. Powder coat finish for machine outside, anti-scratch, durable, nice looking.
3. Grinding handwheel turn to control different sizes of grits.
4. Wind insert plate to control wind capacity which helps take out bran/skin from grits.
4.Maize milling machine actual photo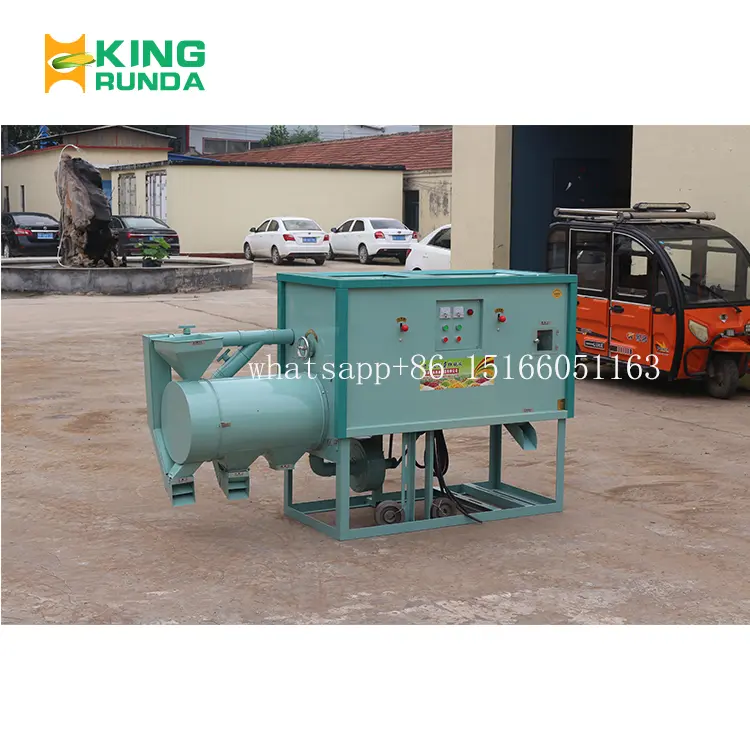 5.Final products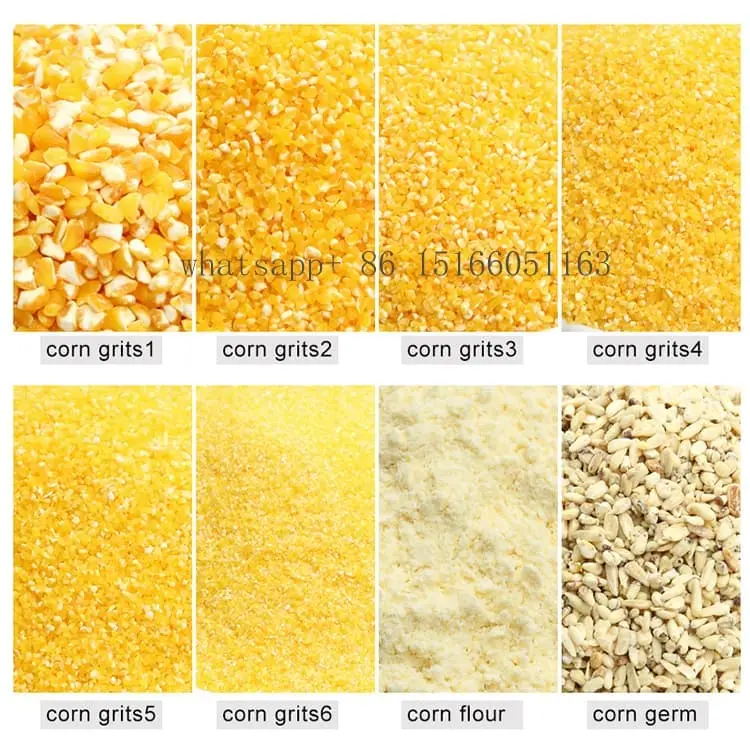 After crushing and polshing, the finished grits are golden in color and uniform in grain,The finished grits no skin、 no germ 、no black hilum、no flour,which can be sold directly in large supermarket .
6.

Technical Advantages
1. Production capacity is up to 600kg/hour. Machine is most powerful, and biggest capacity.
2. The peeling system and grinding system can work independently
3. Peel dry way.
4. Peeling quality excellent. After peeling, corn has no skin, no corn germ, root and hilum.
5. Grits has no black hilum.
6. Fine grits has no skin, no flour.
7. Acrylic window design for easy watching over peeling result.
8. Peeling performance rate is up to 98%.
9. Special grits milling mechanism to grind corn evenly into grits.