The introduction of 6FT-PD1C Corn grits machine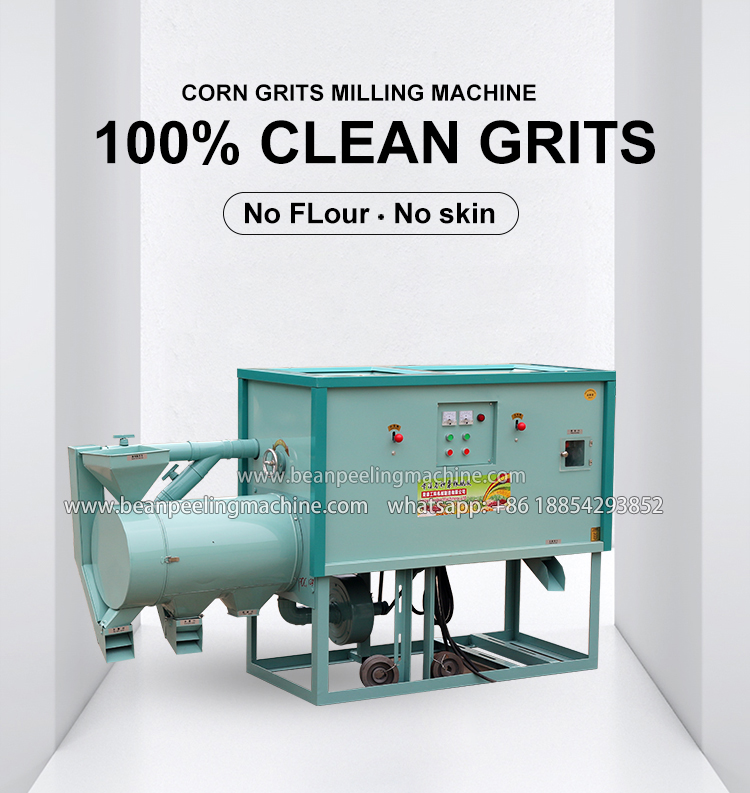 6FT-PD1C Corn grits machine is a top grade technology corn grits making machine. It is composed of four systems: peeling system,
grinding system, grading system and dust removal system. This machine breaks the convention. The peeling system and grinding
system can work independently, which saves electricity. also increases the service life of the machine. The machine is beautiful appearance、
sturdy and durable,、easy to opearate and reliable performance。 After crushing and polshing, the finished grits are golden in color and uniform
in grain,The finished grits no skin、 no germ 、no black hilum、no flour,which can be sold directly in large supermarket . The newly added stepless
crushing system, four wind net dust removal system and secondary reserve dust removal system can make 22 kinds of corn grits.
Work Process

Peeling: :remove outer skin, take out root and black hilum, to get best nutrient part out of corn seed for further processing.
Grinding: grind peeled kernel into grits.
Grading: Grad grits into different mesh size.



Technical parameter of 6FT-PD1C Corn grits machine
Including peeling, grinding and grading.
Capacity:500- 600kg/h (input)
Packing size:2300x800x1440mm
CBM: 2.6.
Technical Advantages
1. Production capacity is up to 500kg/hour. Machine is most powerful, and biggest capacity.
2. Peel dry way.
3. Peeling quality excellent. After peeling, corn has no skin, no corn germ, root and hilum.
4. Grits has no black hilum.
5. Fine grits has no skin, no flour.
6. Acrylic window design for easy watching over peeling result.
7. Peeling performance rate is up to 98%.
8. Special grits milling mechanism to grind corn evenly into grits.
9. Thick iron sheet strong body, machine not shake during running.
10. Powder coat finish for machine outside, anti-scratch, durable, nice looking.
11. Hand wheel turn to control different sizes of grits.
12. Wind insert plate to control wind capacity which helps take out bran/skin from grits.
Q: How do you control your production quality?
A: We have an independent QC team. Our QC teams do sample inspection, part inspection during production and 100% final inspection before each shipment.

Q: Can I have a visit to your company before placing an order?
A: Sure, welcome to visit us

Q: What is the Lead time?
A:The lead time of our machine is 15 to 30 days.

Q: What is your payment terms?
We accept Alibaba Trade Assurance, TT, LC, etc.

Q: Can you provide the whole workshop automotive equipment?
A: Yes. we have 6 series contains nearly all automotive equipment.

Q: How long is the warranty?
A: Our warranty is 12 months