Introduction for corn grinding machine

6FT-50B is most popular model that is suitable for flour grinding purpose. It adopts double roller grinding theory. Two rollers rotates at opposite direction, and produces friction, squeeze, cutting to crush grain, then send to round sifter for extracting flour. All process goes under wind automatically. It is composed of power, feeding, grinding and separating. Capacity is big, flour quality is good. Suitable for business in agricultural areas, villages or small city towns.
Structure for 6FT-50B corn grinding machine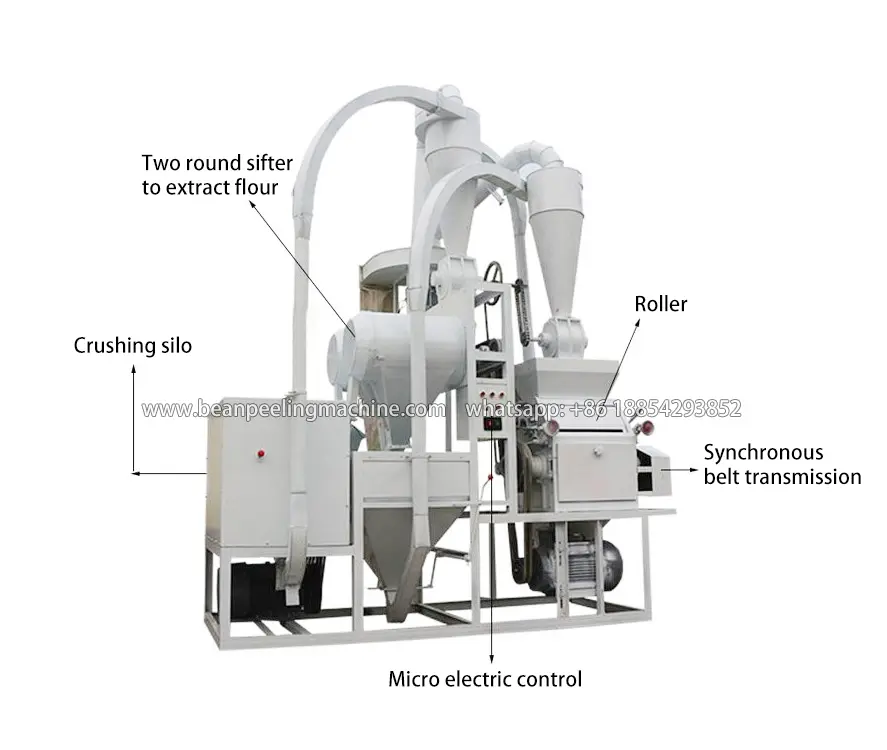 One strong crushing machine to crush peeled corn into small pieces then send automatically to roller milling part for finely grinding into fine flour. Professional design for corn flour, also suitable for other bean flour, too.
Different from other grinding machines, this grinding machine has a crushing bin, which can initially crush large particles of raw materials and then enter the roller grinding studio for fine grinding, solving the defects that ordinary roller grinding machines can not directly grind corn and beans.
Working process for 6FT-50B corn grinding machine
Crushing: Crush cleaned corn into grits
Flour grinding: Grind corn grits into fine flour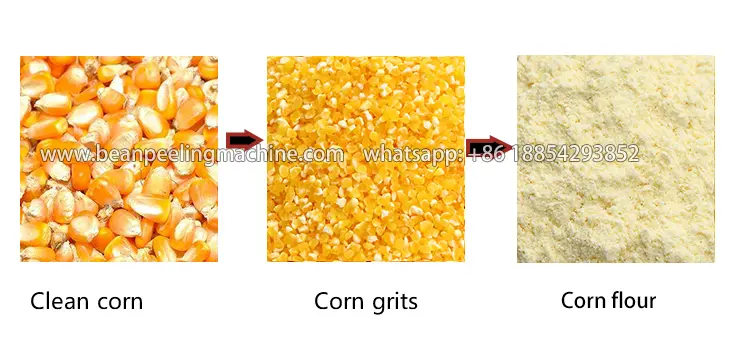 This machine also can grind wheat ,black eye bean, black pepper,mung bean and other beans into flour.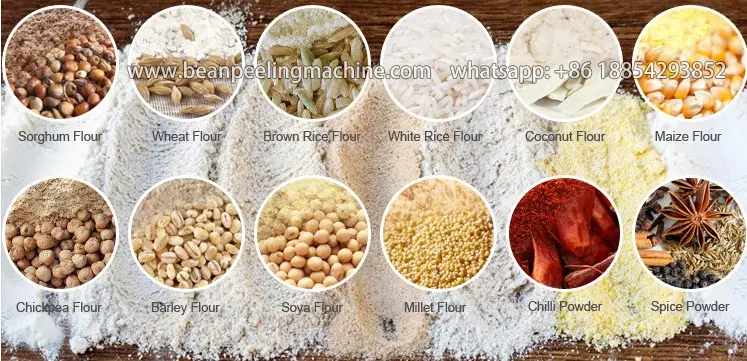 Processing for corn flour

The corn milling process, also known as maize milling, is a series of steps used to convert corn kernels into various products, such as cornmeal, corn flour, grits, and other derivatives. This process is essential in the food industry, as corn is a versatile grain used in numerous food products.
The corn milling process typically involves the following stages:
Cleaning: The first step is to remove any impurities or foreign materials from the corn. This is done through a process called cleaning, where the corn is passed through various sieves, screens, and air currents to separate any stones, dirt, or debris.

Conditioning: After cleaning, the corn is moistened and conditioned to adjust its moisture content. This step is crucial to ensure optimal milling and produce high-quality end products.

Degermination: Degermination is the process of removing the germ from the corn kernel. The germ is the part of the kernel that contains oil, and its removal helps increase the shelf life of the final products.

Grinding: The conditioned and degerminated corn is then ground into various forms using a corn grinding machine or mill. The grinding process can vary depending on the desired end product. For instance, for cornmeal or corn flour, the corn is ground to a fine consistency, while for grits, a coarser grind is used.

Separation: After grinding, the milled corn is passed through sifters or sieves to separate the ground corn into different particle sizes. This process allows the separation of fine flour, coarse flour, and grits.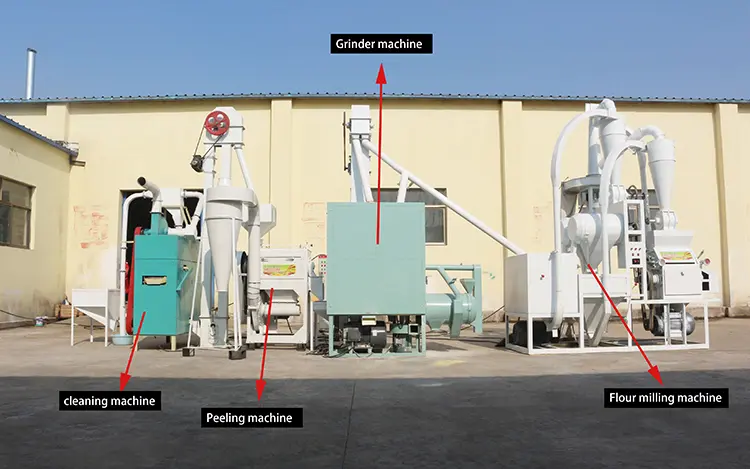 Technical advantage for 6FT-50B corn grinding machine
1. Highly automatic, high production capacity 500kg/hour.
2. Easy to operate, easy to replace flour sieves.
3. Compact structure, strong steel sheet material, durable to use.
4. Transportation is easy, around total 5cbm.
5. Machine is equipped with roller pressure adjusting system, roller position fixation design, two silos easy exchange design for grinding different times.
6. Electrical control cabinet is configured in the machine, high security. Easy to protect people and machine from damage.
7. We use imported famous brand roller for running long time.
8. Driven way are synchronous belt or gear toothed.
Related product